In July 2022, the first ever seminal textbook on Maggot Therapy – "A Complete Guide to Maggot Therapy" was created with contributions for maggot experts all over the world!
The amazing editor and conceptor was Dr Frank Stadler of Griffith University, Queensland,
The book was published in July 2022 by Open Press Publishers and is now freely available to download for all. This book is the first of its kind and covers everything we know to date on the renaissance of the use of medicinal maggots for chronic wound care. This book will impact hugely on the world of wound management, scientific investigations underlying the therapy and for clinicians worldwide.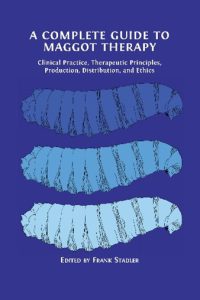 Order or download your free copy!
The book is absolutely free if you are content with a PDF rather than other formats. You can download a PDF for free or order other copies of the book and individual chapters here.
So, a little flier with the details or simply direction to Open Book Publishers will allow people to find it easily. I attach some promo material you might like to use / print off for this purpose.